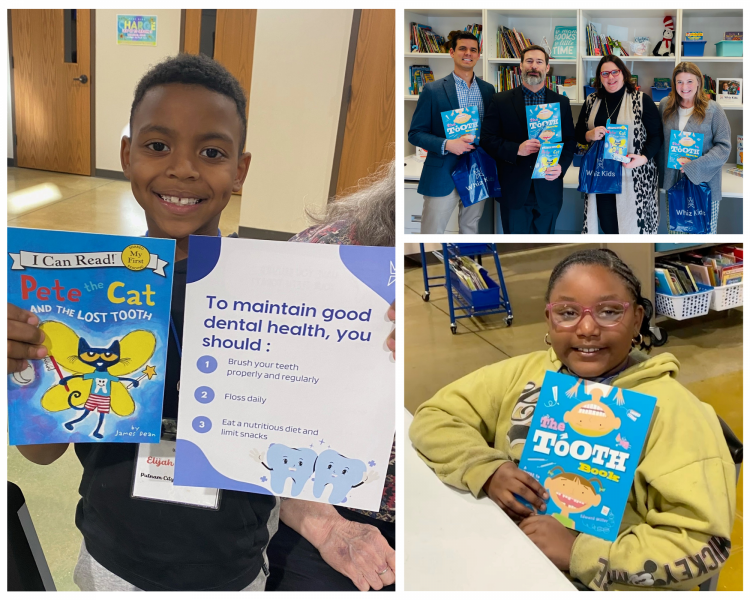 As part of DentaQuest's commitment to improving the oral health of all, we are proud to support underserved communities and address systemic inequities that exist in the health care system.
In Oklahoma, Brian Mayer, senior manager of provider engagement, DentaQuest, part of Sun Life U.S., has spearheaded a unique partnership with Whiz Kids and City Care in Oklahoma City. Whiz Kids works to improve opportunities for students through one-on-one mentorship and literacy support. It is a program of City Care, a non-profit that provides community resources, including health care services, assistance for the homeless and supportive housing.
"Frankly, we have a mutual goal in that we're trying to better or invest in people's lives that need these services," says Mayer.
Whiz Kids serve about 550 children a week at 30 different locations across metro Oklahoma City. Their teams pick up participating children up from school, transport them to one of their sites, provide education and literacy activities, serve them a nutritious dinner and then provide transportation home.
The partnership kicked off earlier this year during National Children's Dental Health Month. On behalf of DentaQuest, Mayer and his team provided about 550 children with a toothbrush and a pair of books related to oral health and hygiene.
Prior to introducing the children to a new set of books, the Whiz Kids team of facilitators are trained on how to present the books and what important messages to convey to get the most out of the presentations. The toothbrushes and books – Pete the Cat and the Lost Tooth by James Dean and The Tooth Book: A Guide to Healthy Teeth and Gums by Edward Miller - were extremely well-received.
"It was an amazingly easy fit," states Mayer. "Tying children's literacy with educating children on oral health was the perfect match."
As part of the partnership, Mayer and his Oklahoma staff plan to visit Whiz Kidz locations regularly to read books to the children. Mayer says, "The plan is to not just have a one-time investment but to sincerely partner with Whiz Kids and City Care in a way that works for them." This includes his desire to bring a mobile dental unit to City Care's supportive housing communities. "I'm big on bringing the care to people where they're at in the best way they can receive it," he adds.
For more information about Whiz Kids, visit citycareokc.org/whizkids. Information about City Care is available at citycareokc.org.
The newsletter designed for anyone who wants to improve oral health for themselves, their families, customers or communities.