Click the link below to view the discussion led by DentaQuest and 3M about preventive care and the future of dentistry. The expert panel addresses oral disease management, challenges facing the dental community, new methods in dentistry, and care delivery models that can benefit patients of all ages. They also share technological and clinical innovations that are moving the industry in new and exciting directions.
Click the video to watch the full session.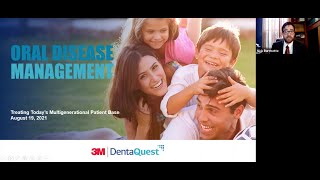 Learning Objectives
Describe the generational differences in oral health care needs.
Discuss how preventive oral care is linked to overall health in patients of all ages.
Explain an oral health provider's decision-making process around minimally invasive restorative treatment.
Explain how the value-based care and reimbursement model supports better health outcomes across generations. 
Identify the use and benefits of sealants.
Facilitator
Nick D. Barnette
Network Projects & Communications Manager
DentaQuest

Moderator
Christina Rego
Scientific Affairs & Education Manager
3M Oral Care



Panelists
Robert Blashka, BBA, DDA
Dental Insurance Advisor
DentaQuest
Carola A. Carrera, DDS, PhD
Senior Research Specialist
3M Oral Care
James C. Grant, DDS
Dental Director
DentaQuest
The newsletter designed for anyone who wants to improve oral health for themselves, their families, customers or communities.