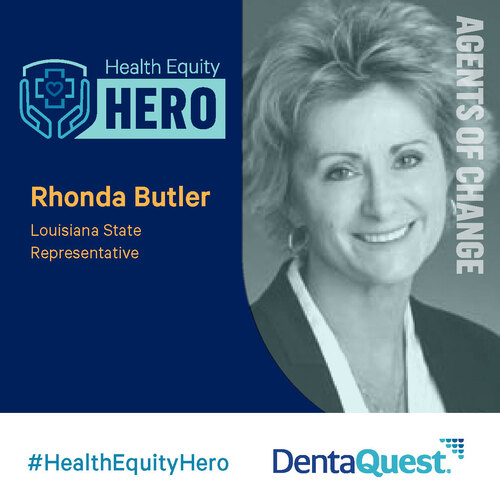 As a parent of an adult with intellectual and/or developmental disabilities (I/DD), Louisiana state representative Rhonda Butler understood from experience that dental care is the number one unmet need among adults with I/DD. In fact, of the nearly 7.3 million adults with I/DD in America, almost 4.5 million rely on Medicaid for health coverage — which often does not include comprehensive dental care.
It's why Rep. Butler jumped at the chance to champion legislation to enable adults with I/DD over the age of 21 to access a dental provider and get needed services through the state. The legislation, which went into effect July 2022, provides comprehensive benefits that have already made an impact for individuals with I/DD and their families.
DentaQuest is thrilled to honor Butler as a 2022 Health Equity Hero. Here, she reflects on her work and how it will make real, impactful change to Louisiana.
You have a son with I/DD. What are some of the challenges you and your son have faced?
I feel the biggest challenge that I face, as well as most parents of children with I/DD, is what happens to our children when we are not there. That's why my husband and I decided to place our child in an Intermediate Care Facility (ICF) for individuals with intellectual disability. There are no other siblings or family to care for him other than me and my husband. We worry about our son's individualized care, health care and care in general. As a parent and state legislator, I feel that we have lots of work ahead of us to make sure adults and children with I/DD are cared for as they are our most vulnerable.
Are the challenges your son has faced commonplace for most adults with I/DD?
In general, I do think these challenges are commonplace. For many adults with I/DD, they have no way to support themselves and some cannot care for themselves, and as a result are left to the care of others. We've got to do better when it comes to this community. They have been pushed to the back of the line over and over again and it's unacceptable. We need all options of individualized care for them — hospitalization, dental, waivers, ICF, better health care and more.
What will this new legislation enable in Louisiana?
This legislation enables adults with I/DD over the age of 21, either through a waiver program or in an ICF, to have access to a dental provider through the state. Additionally, this legislation allocates funding to pay for anesthesiologists and hospital units, which are sometimes necessary when treating patients with I/DD.
Beyond benefiting families, you often talk about how this benefits the state's bottom line — how does this actually save money?
Right now, the lack of availability of comprehensive dental care for adults with I/DD creates an over-dependence and strain on local emergency rooms, where they only address symptoms and cannot properly provide dental care to patients. It's estimated that over a five-year period, those who have access to good preventative oral health care save 31% in dental costs, while others who go without care saw an increase of 43% in cost. A national Medicaid fiscal study indicated that by implementing a dental benefit, through reductions in emergency departments and hospital admissions and in the cost of treating chronic illnesses exacerbated by poor oral health, the cost savings would be $27.3 million.
This is so important to communicate to people — that investing in proper preventive dental care that is accessible to everyone saves money in the long run.
What do you want to communicate to people who don't have a full grasp on the importance of dental care for individuals with I/DD?
Dental care is the number one unmet need among adults with I/DD. We know that for every dollar spent on preventive dental care $8 to $50 can be saved. Investing in accessible dental care is a no brainer. At what cost are we not willing to invest in the health of adults with I/DD? Enough is enough.
Click here to read more about DentaQuest's 2022 Health Equity Heroes.
The newsletter designed for anyone who wants to improve oral health for themselves, their families, customers or communities.