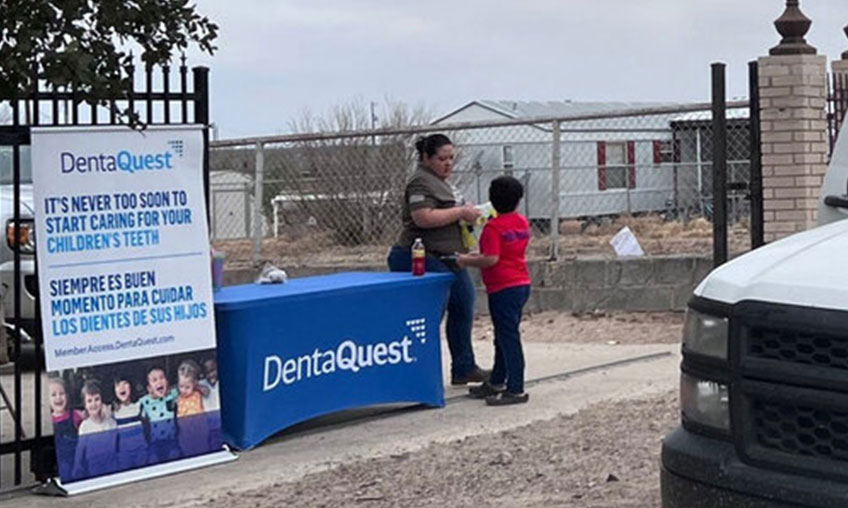 Last month, a water main break propelled Laredo, Texas into a state of emergency. The rupture of the main water line stopped the flow of water across the city, cutting off access to clean water for over 125,000 of Laredo's residents at the end of February. As neighbors came knocking for assistance, Anel Torres, a member advocate specialist at DentaQuest, took action to help provide clean water to the community.
We invited Anel to share her story. Here's what she had to say:
There was no clean water in Laredo. We were all hit hard. Some areas of the city were left without any water for a few weeks, and while some regained access to water, it was not safe to drink. Schools returned to virtual classes because they had no water access. Bottled water was completely out of stock at grocery and convenience stores across the city. While the city sent one tankard of water to bridge the gap, the supply ran out immediately, with plenty of residents left unserved. As an active member of my community, people thought I could help. Neighbors reached out and it pained me deeply to share in their struggles.
About one week after the major line broke, I contacted my colleagues to inform them of the crisis in my community and asked if there was anything DentaQuest could do for to help those in dire need of clean water.
In response to my outreach, several DentaQuest corporate staff members acted quickly to provide my community with the resources we needed. They swiftly identified a supplier, purchased roughly $5,000 of bottled water — nearly 17,000 16-ounce bottles — and had them directly delivered to my driveway within a few days.
It was incredible — a semi-truck full of water bottles navigated its way down my small road. Once the water bottles were delivered, I had to create a plan to distribute them to my community. To do this, I partnered with the Mid Rio Grande Border Area Health Education Center, which helped to arrange a water distribution drive-thru from the end of my driveway. Residents of the Pueblo Nuevo Subdivision and surrounding colonia drove up and wonderful volunteers helped load cases of water into their cars.
After a few hours of distribution, we decided we wanted to reach more residents — specifically residents such as the elderly who didn't have transportation or those who didn't know to come to my home. The next day, over 150 cases of water were loaded into volunteer's trucks and delivered straight to our neighbors' doors.
As a result of DentaQuest's donation and generosity, over 200 families in Laredo received clean drinking water. People using the drive-thru to pick up water even showed me their DentaQuest member cards and proudly shared, "I have DentaQuest insurance!" Residents were so grateful and thanked us for the extra efforts in caring for the community. I'm so thankful for the support we have received and so proud to work for a company that provides resources directly to those on the ground who are in need.
At DentaQuest, we believe that everyone deserves to be healthy — a healthy mind, a healthy mouth, a healthy body. It's why our efforts toward achieving healthier communities have often expanded far beyond oral health. It's also why we're proud to support Anel and the Laredo community in a time of need. We continue to be inspired by our teams' compassion and resilience.
The newsletter designed for anyone who wants to improve oral health for themselves, their families, customers or communities.