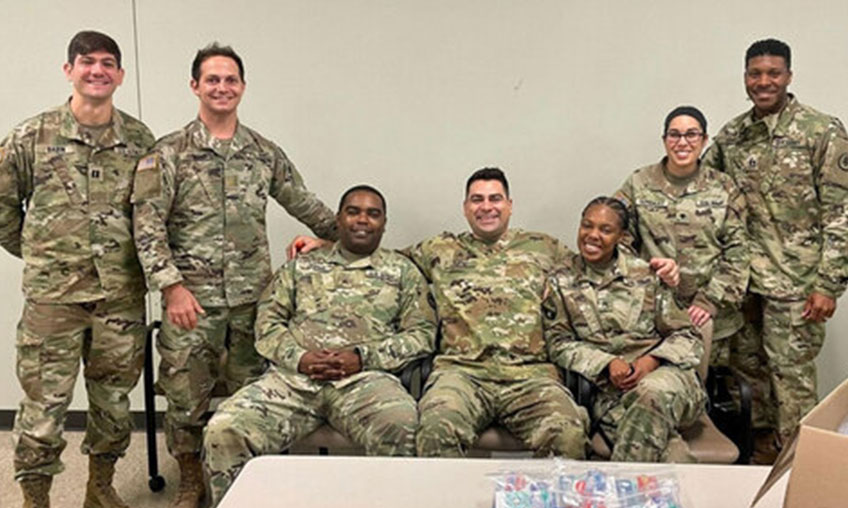 While DentaQuest's Mission Month has taken various forms over the past few years, this annual tradition was strengthened by the participation of our colleagues at Sun Life U.S.

Mary Ann Kozlowski, manager of Corporate Giving and Partnership at DentaQuest, shared, "As a national dental insurance company, our teams live in many states. But during Mission Month we are all united in a common mission to serve others and improve oral health. Each one of us is living that mission as DentaQuest ambassadors whether it is by delivering home care supplies to organizations whose members need a little lift or volunteering on a community project."
Last month, we launched Mission Month 2022 with nearly 50% of DentaQuest employees and over 325 Sun Life employees participating in Mission Month activities. Employees took time to assemble oral health kits — filled with toothbrushes, toothpaste and floss — for their local community nonprofits. Thanks to their efforts, over 70,000 oral health kits were donated to 39 nonprofit organizations across 17 states. At DentaQuest, we know that oral and overall health are connected and to have a healthy body, you need a healthy mouth. These oral health kits provide people with the materials they need to prioritize their oral health.
In Louisiana, Dr. Damien Cuffie — who serves in Louisiana's National Guard — served his community by giving out toothbrush packets during a recent visit with the Louisiana Medical Detachment at Camp Beauregard.
"When I visited Camp Beauregard, a lot of soldiers couldn't tell me the last time they had a proper cleaning and said they only go to the dentist when their teeth hurt," said Dr. Cuffie. "Soldiers from rural areas were missing a number of teeth. They wait until events like this clinic to get treatment. That's why I try to educate [soldiers] on the importance of oral health while doing examinations."
Our mission to improve the oral health of all is at the center of everything we do. That's why every July, we honor extraordinary individuals who champion equitable access to oral health care through our Health Equity Heroes program. And that's why this Mission Month DentaQuest made donations in honor of our employees' commitment to our mission to Smiles for Success and Houston Dental Equality Network — two of the organizations recognized by the 2022 Health Equity Hero program.
Unlike previous years, DentaQuest's Mission Month efforts extended further than the boundaries of local communities. In late September, Hurricane Ian devastated much of Florida's coastline and impacted millions of Floridians. DentaQuest quickly jumped into action and donated $500,000 to the Florida Disaster Fund, which assists Florida's communities as they respond to and recover during times of disaster, to support Hurricane Ian relief efforts.
And, as part of this commitment, DentaQuest matched contributions made by employees to nonprofits providing aid to Hurricane Ian victims. Employees joined forces and donated a total of $5,680 which we matched for a grand total of $11,360 contributed to relief efforts.
"It's incredibly heartwarming to see our DentaQuest community come together to make a difference — no matter big or small — in people's lives," said Mary Ann. "Every year we're able to accomplish more and provide more support for those in need."
The newsletter designed for anyone who wants to improve oral health for themselves, their families, customers or communities.