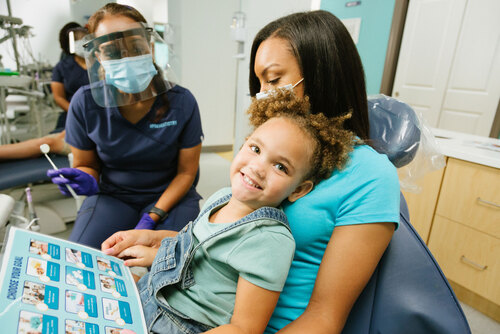 At DentaQuest, we know that improving the oral health of all starts with providing equitable access to dental care for all. Considering that nearly 74 million Americans lack dental benefits, there is a lot of work to be done to break down barriers to care. Without access, consumers can't get essential preventive dental care and education, which contributes to a higher risk of chronic health issues beyond the mouth.
It's why DentaQuest's Preventistry® approach to achieving good oral health is centered on preventive education, expanding access and solutions that drive quality of care over quantity of services. As we look back at some of the big Preventistry wins of 2022, we see clear progress and a path toward an oral health system that works for everyone. Here are five ways access to oral health care has expanded this year for millions of people across the country:
1. Extending Medicaid dental benefits to adults with intellectual and developmental disabilities (I/DD) and pregnant people.
This year we saw several states act to expand Medicaid dental benefits. In Louisiana, for example, new legislation passed to expand benefits to adults with intellectual and developmental disabilities (I/DD). This was a huge win for thousands of these individuals and families who have been overlooked for far too long. But policy alone is not enough. Since the benefit went into effect in Louisiana on July 1, 2022, DentaQuest's outreach team has been working hard to connect with families and make sure they are aware of and can access this important benefit.
We also saw an increase in the number of states expanding Medicaid coverage for pregnant people. As of April 1, pregnant people in Tennessee have access to Medicaid coverage from two months to a full year postpartum and expanded the benefits to cover oral health care — a critical piece of the overall puzzle to ensure healthy pregnancy and maternal outcomes. It's an area that DentaQuest has been focused on for years, including through our Smiling Stork outreach program and most recently, when Amber Bonnaig, DDS, dental director at DentaQuest, had the opportunity to present at the 2022 Black Maternal Health Conference and Training Institute™ (BMHC) about the critical ties between oral health and pregnancy.
2. Investing in dental homes for children.
A dental home is the ongoing relationship between a dental care provider and a child or family, similar to a primary care physician in health care. Unfortunately, there are so many kids across the country who don't have the means to visit the dentist, and as a result their oral health has been neglected.
In addition to DentaQuest's long-standing and successful dental home assignment program, which includes a growing number of clients, we have been a proud supporter and sponsor of TeamSmile for years. This year, we took that relationship a step further, launching a new nationwide initiative — The TeamSmile Dental Home Project, powered by DentaQuest. This initiative is designed to connect children in need with long-term dental care resources and dental teams who will serve as their continuous preventive care doctors, either for free or through Medicaid. We launched the program this summer with an event at Arrowhead Stadium in Kansas City, Missouri, in partnership with the Kansas City Chiefs providing over 400 kids with preventive and restorative dental care. To date, TeamSmile has conducted more than 250 programs, served more than 45,000 children and provided more than $18 million in free dental care and oral health education.
3. Recognizing the importance of case management in oral health.
At DentaQuest, our case management team has a unique and up-close role helping those who are most vulnerable overcome barriers to care. The team of nine works one-on-one with high-risk members to get them the care they need, directly reaching out to as many as 400 to 500 members per month. And because we understand the many critical connections between oral health and overall health, our team often helps members connect with resources they need beyond oral health — from mental health support, to connecting members with providers in their area.
It's become a proven and effective model to not only deliver better dental benefits, but to support healthier and more cost-effective health outcomes overall. As a result, DentaQuest's case management program continues to grow. This year we were pleased to be selected by Partners Health Plan in New York to administer dental benefits to individuals with I/DD, and to continue to manage oral care for Florida Healthy Kids Medicaid enrollees, as well as Florida adults with I/DD.
4. Innovating care delivery with Curodont.
Innovations in dental care delivery are evolving at a rapid pace, and many offer promising new ways to increase access to care. We've seen how preventive dental care treatments such as sealants and products like silver diamine fluoride (SDF) have improved oral health outcomes in communities that struggle to maintain consistent access to a dentist. Now, an innovation that we've been particularly excited about this year is Curodont — the first non-invasive, regenerative caries treatment that is gentle and drill free.
Unlike other products currently used in dental clinics, Curodont effectively regenerates a tooth with a carious lesion (cavity) ​​from the inside out. And the dentists using the product are seeing great success, happy patients and cost savings. Whenever we can avoid taking a drill to a tooth and prevent the need for fillings or filling replacements, it's not only better for the patient, but helps to alleviate additional costs. At DentaQuest, we're always working to find new ways to provide care inside and outside of brick-and-mortar clinics, and Curodont is a promising innovation in 2022 and beyond.
5. Advancing health equity and diversity in the oral health field.
We understand that addressing issues of health equity are essential to transforming the oral health care system. From making oral health a focus at the Black Maternal Health conference, to creating dental homes for children, and better supporting adults and families with I/DD, prioritizing equitable care is at the center of all we do. This year, we've also highlighted the importance of increased representation in the dental field and supported building a pipeline of more diverse dental professionals, especially in the context of today's staffing crisis.
Inside DentaQuest, these values are reflected through our annual Mission Month work and the Health Equity Heroes program, which this year recognized 13 disruptors from across the country who are championing change in existing health systems to enable equitable access to oral care. We were also very proud to see DentaQuest employees at all levels, recognized for their leadership. Kamila Chytil, COO and executive vice president, was named to Profiles in Diversity Journal's 2022 Women Worth Watching in Leadership, and Hyon Leon, director, data analytics and underwriting, was named to Profiles in Diversity Journal's 2022 Asian Leaders Worth Watching.
The work of increasing equity and transforming oral health care won't happen overnight. But thanks to the dedication of so many of our partners across the oral health community, 2022 has ushered in a wave of new innovations and set in motion what's possible for the future: an oral health system that works for everyone.
The newsletter designed for anyone who wants to improve oral health for themselves, their families, customers or communities.