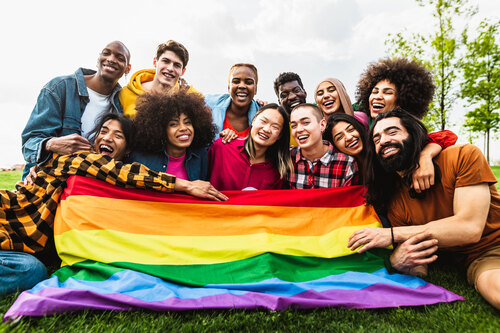 "Pride month can be a celebratory and joyful time for those of us who identify as LGTBQIA+. It can also be a time to reflect on history – our own personal journey and the rich past of all things 'under the rainbow." Many people reflect and focus on community, family, friends and overall being stronger together. For me, being stronger together is embracing my chosen family," explains Hollis Baird, network analyst at DentaQuest.
Hollis is a member of the UN1TY+ steering committee, which is the LGBTQIA+ Employee Resource Group (ERG) at DentaQuest. The group works year-round to promote inclusivity not only in DentaQuest, but in our communities. Celebrating Pride this month, many of the committee members shared what it means to them, from honoring "chosen family" to talking about their "it gets better" journey. The group also selected several community organizations to support this month and throughout the year.
"My chosen family consists of those who "hike their own hikes." The people who don't always fit in with everyone," says Hollis. "That is where our community and connection to each other creates a deep and rooted bond. We have purposefully chosen to support, love, care for, validate, and encourage each other through our daily lives and fully accept one another just as is. We share joy in life's milestones, spend holidays together, are travel companions, help each other through difficult times and even with the pandemic, have formed our own "germ bubble" of safety. Our family may not be blood-related, but we make the choice to stay connected and support each other fully – just as we are. To me, that choice is precious and special."
Another UN1TY+ steering committee member, Josh Reiner, talked about growing up in a small town in Montana and how he overcame bullying — and how it gets better.
"Knowing your truth is the most important in life. Whatever names I may be called, I am a compassionate, kind human being and nothing will ever change that. Nothing in life lasts a lifetime, even the years of abuse. It. Will. Pass. I had my friends to support me, and my mom, sisters, aunts and uncles supporting me every step of the way. After my reflection on the bullying, I realized that I am going to do something with my life, I'm going to get out there and experience things. That is exactly what I did."
"Pride is a chance for people to celebrate who they are and who they want to be. It is a celebration of one's history, experiences and triumphs and fills individuals with pride and energy. The cliché of 'it gets better' is something to genuinely hold onto, because life does get better," adds Josh.
We appreciate Hollis, Josh and others at DentaQuest being open and willing to share their personal stories. By sharing all our diverse and unique perspectives, we can all grow and better support each other, our members and communities.
During Pride month and throughout the year, DentaQuest is proud to support the community through contributions to the following organizations:
National Association of Asian American Professionals (NAAAP) Boston — five PRIDE scholarships to Asian American and Pacific Islander (AAPI) college-bound high school seniors.
Zebra Coalition, Inc. — $10,000 contribution to help provide dental care for individuals they serve.
Gay, Lesbian & Straight Education Network (GLSEN) — $150 from UN1TY+ and $150 from Corporate Giving.
Gender Cool Network — $150 from UN1TY+ and $150 from Corporate Giving.
Transgender Education Network of Texas (TENT) — $150 from UN1TY+ and $150 from Corporate Giving.
Transgender Law Center — over $1,200 to date from a UN1TY+ sponsored custom Pride month T-shirt sale.
The newsletter designed for anyone who wants to improve oral health for themselves, their families, customers or communities.