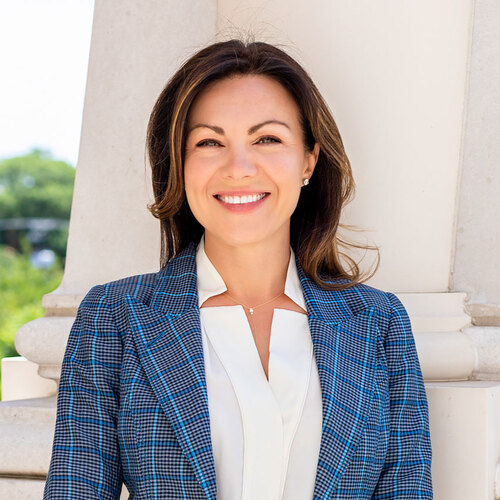 "Change doesn't happen overnight. In order to get from one place to another, you have to embrace the inevitable messiness that accompanies true transformation. It's my job to navigate my team and company through the small and big changes — whether planned or unexpected — as we work toward a fundamental shift in how to conduct business."
Kamila Chytil, executive vice president and chief operating officer at DentaQuest, recently shared her perspective with Profiles in Diversity Journal®, where she was named a 2022 Woman Worth Watching in Leadership alongside Roxanne Martinez, executive vice president and chief human resources officer at DentaQuest.
DentaQuest is proud to showcase Kamila's well-earned recognition. As COO, Kamila brings years of leadership in financial services to the health insurance industry. She understands the technology and user experience that consumers expect, and is leading DentaQuest's move to optimize digital, operational and information services. Her efforts have already halved customer service phone calls by providing members with increased access to digital tools, such as the ability to switch providers online instead of via the phone.
Kamila's tenacity and leadership have been invaluable at DentaQuest. We're excited to take this opportunity to share her perspective on how leadership styles have adapted as a result of the pandemic, in an excerpt from Kamila's submission to Profiles in Diversity Journal:
The pandemic has taught everyone that things can change around us extremely quickly, and as leaders we must adjust even faster to new information, new standards and new rules of how to operate in a rapidly changing environment in order to get our teams acclimated to the changes. We have to be ahead of the change curve in order to help others navigate it at the speed that matters to them. We have to be available, calm and able to disseminate with confidence information that may have just become available to us minutes before. This is so different from the traditional focus on preparation and planning that had dominated business for forever, Over the past two years, even leaders trained in crisis management had to exercise judgment in ways that have not been tested before.
Amid the pandemic, I have also learned that working differently day to day is necessary and have adjusted my leadership style as a result. Communication frequency and intensity is a great example of one of those adjustments. While in the past I may have relied on formal, large scheduled meetings for my teams, now I organize more thematically and include a strategically broader set of attendees so that the meeting is effective, even if one of the key leaders is out sick. This has helped me continue to drive key initiatives without as many schedule changes and has also exposed more people across departments to the topics that matter in my organization.
As a society, we didn't gain many positive things from the pandemic, but we did gain one important thing, and that is perspective. What truly matters in life has centered a lot of leaders to focus on people and what's most important to us, rather than the small things or the habitual but unnecessary things that for so long defined the way we worked and what we valued in leaders. Flexibility and the resulting focus on adjusting one's leadership styles to fit the needs of today's workforce is a refreshing new theme, and I believe that it is here to stay.
The newsletter designed for anyone who wants to improve oral health for themselves, their families, customers or communities.