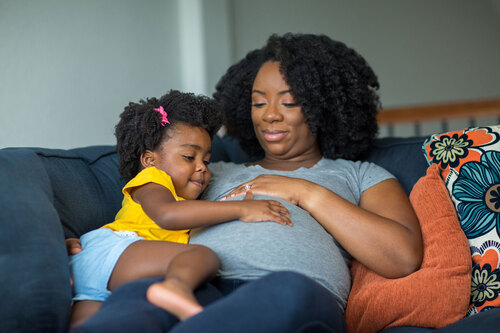 "There is a link between oral health and overall health, they are connected. The lack of oral health during the prenatal period can have consequences for the mother and baby… Black adults, male or female, are 60% more likely to have unmet dental needs than their white counterparts."
Amber Bonnaig, DDS, dental director at DentaQuest, had the opportunity this month to present at the 2022 Black Maternal Health Conference and Training Institute™ (BMHC), the premiere assembly for black women, clinicians, professionals and advocates working to improve maternal health, hosted by the Black Mamas Matter Alliance (BMMA).
Here, Bonnaig shares key takeaways from her presentation, which focused on the connection between oral health and maternal health and how oral health can drive improved outcomes for Black women.
There are clear ties between oral health and pregnancy.
The evidence is clear: proper oral health care is a critical part of comprehensive pregnancy care, yet our health system treats it as ancillary, and Black women are disproportionately impacted. The result is not just negative oral health consequences, but overall health consequences for both mom and baby. Many people may not be aware that while pregnant, as many as 50% of all women develop gingivitis or gum disease due to a change in hormone levels. And, while gum disease may not worry some, research suggests that gum disease raises risk for serious conditions including preeclampsia and low birth weight.
Health systems do not adequately value Black lives.
The lack of access to health and dental care in underserved communities is a cycle, causing perpetual systemic barriers that leave Black, Indigenous and People of Color (BIPOC) at risk. In the U.S., Black women are three times more likely to die from a pregnancy-related complication than their white counterparts. In addition, Black mothers in the U.S. are twice as likely to lose an infant to premature death. The racial, ethnic and economic disparities that make accessing oral health care a challenge — especially for Black women — add to the problem of maintaining a healthy mouth to support a healthy pregnancy and healthy birth.
Women who receive preventive dental care during pregnancy are less likely to deliver preterm or have low birthweight.
The Oral Conditions and Pregnancy (OCAP) Study, a prospective observational study, has shown that maternal periodontal disease and disease progression during pregnancy conferred an increased risk for preterm delivery, largely evident by inflammatory markers that are linked to the mouth. Infection and inflammation have long been shown to be important risk factors in causing preterm birth. In the U.S., Black women have significantly higher rates of preterm birth than their Hispanic or white counterparts. Addressing the socio-demographic risk factors for preterm birth and their resultant health inequities may take a long time, but increasing awareness of the importance of oral health during pregnancy is achievable right now.
These consequences are preventable, and there are many solutions we can implement to address oral health inequities.
One important solution is making changes to Medicaid and expanding coverage for pregnant populations. Lately, there has been increased focus on quality care during the perinatal period at the state and federal level. New York state and California convened experts from dentistry and obstetrics to develop a comprehensive set of guidelines for ensuring the oral health of women during pregnancy. In Virginia, a dental benefit for pregnant women has been introduced to Medicaid and under this benefit the number of pregnant women receiving dental services doubled from 2014 to 2019.
Expanding coverage isn't the only way forward. A critical part of addressing these consequences is prioritizing oral health education. While everyone knows that the first step in pregnancy is to visit the OB/GYN, pregnant women also need to go to the dentist when they realize they are pregnant. OB/GYNs and dentists can and should work together to educate women on the connection between oral health and pregnancy and coordinate appropriate, preventive oral health care.
Overall, these solutions can help to drive measurably improved outcomes for Black women and their children. Bonnaig concluded her presentation by sharing the future she envisions for Black women and oral health:
"It's my hope with this topic and Black maternal oral health, that we are able to show the importance in integrating and linking oral health during the prenatal period. You have a woman that is expecting this beautiful child, and they are a captive audience. It is the perfect time for education. But I want to take it a step further; I'm hoping that they take this education and bring it into their homes and families. Hopefully we can disrupt the oral health crisis cycle through education and prevention."
The newsletter designed for anyone who wants to improve oral health for themselves, their families, customers or communities.