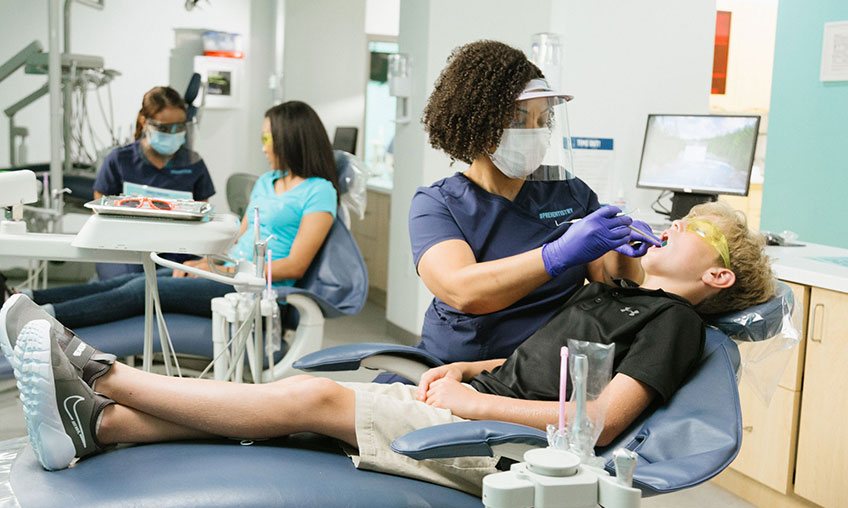 At DentaQuest, we recognize the importance of access to quality dental services — especially for children. Unfortunately, there are so many kids across the country who don't have the means to visit the dentist, and as a result their oral health has been neglected. That's why DentaQuest has been a proud supporter and sponsor of TeamSmile for years.
Recently, TeamSmile and DentaQuest held an event at Arrowhead Stadium in Kansas City, Missouri, in partnership with the Kansas City Chiefs, providing over 400 kids with preventive and restorative dental care. Local Kansas City dentists performed services including screenings, x-rays, fillings and other treatments, while the kids spent time around their favorite players and learned about the importance of oral health. And, after over a year's worth of preparation, TeamSmile and DentaQuest finally brought the TeamSmile Dental Home Project, powered by DentaQuest, to life.
The TeamSmile Dental Home Project, powered by DentaQuest, is designed to connect children in need with long-term dental care resources and dental teams who will serve as their continuous preventative care doctors, either for free or through Medicaid.
In celebration of this initiative, we're breaking down the importance of dental homes and how they are a step toward ensuring that children across the U.S. receive routine, comprehensive oral health care.
What are dental homes?
A dental home is the ongoing relationship between a dental care provider and a child or family, similar to a primary care physician in healthcare. By establishing routine checkups every six months and treatment when necessary, patients are provided with preventive oral health care that greatly diminishes their risk of dental disease, and establishes overall health and longevity. Dental homes are designed to be safe, compassionate spaces where families can take charge of and learn about their own health.
Why are dental homes so important?
Healthy habits are best established early. By fostering compassionate relationships between children and their local dental providers and teams, children are more likely to get the care they need at the right time, and be educated on why oral health is essential to overall health. A dental home also enables dental care teams to coordinate care for children and their parents, ensuring preventive care and treatment at all stages of life for the entire household.
What is the impact of this new initiative?
The TeamSmile Dental Home Project provides children in need of dental care with a chance to better their oral and overall health and sets them up for a healthy future. And, this initiative is already producing real, impactful results. From January through August 2022, roughly 3,000 children attended TeamSmile programs, and more than one-third of these children didn't have a primary dentist. Since piloting this initiative, the TeamSmile Dental Home Project powered by DentaQuest has connected approximately 700 children with a dental home in their community.
This initiative is just one of DentaQuest's many efforts to connect members to dental homes. 
The newsletter designed for anyone who wants to improve oral health for themselves, their families, customers or communities.