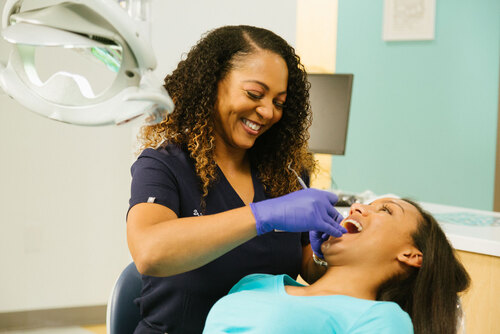 It comes as no surprise that impediments to health care disproportionately affect the U.S. Hispanic population. But it may be surprising that a lack of Hispanic representation in the dental field compounds barriers to care among this already underserved population. As we celebrate Hispanic Heritage Month, this is an important moment to recognize the imperative of building back our dental workforce in a way that prioritizes representation and equity.
Addressing this issue head on is an urgent need — for the health of our communities and our workforce.
According to the American Dental Association's Health Policy Institute, more than 80% of dental practice owners found the hiring of dental hygienists and assistants to be extremely or very challenging in 2021, and around 54% reported the same for dentists.
At the same time, the current racial mix of the dental workforce does not reflect that of the U.S. population. In 2020, Hispanic dentists made up 5.9% of the dental workforce (vs. 18.4% of the overall population) while Black dentists made up 3.8% (compared to 12.4% of the overall population). These numbers have stagnated for more than a decade.
These disparities are also reflected in oral health outcomes. For example, only 31.8% of Hispanic seniors reported visiting the dentist in a 12-month period, compared to 54.8% of white seniors, according to one recent study. One in three adults ages 65 and older who identify as Mexican American have untreated tooth decay, which is two to three times the rate of untreated cavities compared to non-Hispanic white adults of the same age. The rate of gum disease among the same senior population overall is 60%, though severe gum disease is most common among Mexican American and non-Hispanic Black adults, as well as people who smoke.
Much of the conversation around improving these outcomes focuses on increasing access and dental coverage. While this is important, we must also work hard to increase Hispanic representation in the dental field. We must be purposeful in our work to construct a more diverse and inclusive workforce, investing time and resources into evidence-based approaches that recruit and retain Hispanic, Black, and American Indian and Alaska Native (AI/AN) dental students.
It starts with our young people. We know that a key consideration for young people choosing their future profession is seeing and meeting people — particularly those who look like them — doing the job. Making providers more accessible to prospective students for opportunities like shadowing and summer internships, and investing in these programs, is pivotal to increasing the number of young people choosing to enter the profession.
At Western University's College of Dental Medicine, for example, students participate in externships in safety net dental clinics focused on caring for vulnerable populations. DentaQuest is a supporter of the WesternU externship program and similar programs at dental schools across the country, along with supporting scholarships and programs that help students prepare and pay for their admissions exams. But we need broader investments in these types of opportunities.
Financial barriers impact far too many prospective dentists of color, beginning with the Dental Admissions Test (DAT). The high cost of the test disproportionately limits students of color in their opportunity to test more than once, which is a norm among peers from higher-income families.
Increasing the numbers of Black, Latino and AI/AN dentists requires not only financial investment in pathway programs but cultural and systemic changes to address the challenges faced by these students. This means moving toward a holistic admissions process — one that appreciates that students bring diverse strengths and rationales for pursuing dentistry, not just their DAT score. In fact, holistic admissions processes that include interviews, and consider life experience and why the student is entering the field can yield a more robust picture of the candidate. Implementing a holistic review reduces bias and enables the dental cohort to reflect the many strengths a dentist needs to succeed.
We recognize that a pipeline of diverse dental providers will not put practitioners in dental offices overnight. But these are critical investments, which by evidence of our current crisis, are long overdue. If we don't start making these changes now, the status quo will only compound workforce challenges and perpetuate oral health disparities.
This is a unique moment for us to build back in a way that also addresses the longstanding racial and cultural gaps in the dental profession. The health of our industry and communities depends on it.
Dr. Bertha Alarcon is the College Coordinator for Diversity & Inclusion Activities at Western University's College of Dental Medicine and a member of the Hispanic Dental Association.
Steve Pollock is President of DentaQuest, the nation's largest Medicaid dental benefits administrator, and a member of CEO Action for Diversity and Inclusion.
The newsletter designed for anyone who wants to improve oral health for themselves, their families, customers or communities.