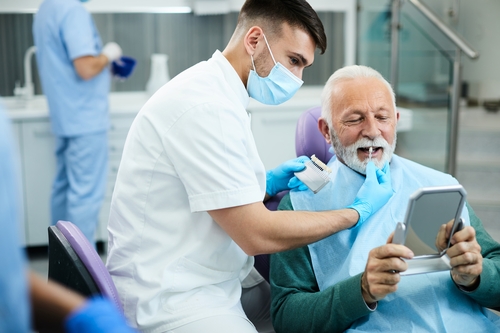 Preventive oral health care is a critical component of overall health at any age. Unfortunately, there's a common misconception that the need for oral health care lessens as people get older.
In fact, Medicare doesn't even cover an adult dental benefit — something that may come as a surprise to many older adults. Yet, according to the Centers for Disease Control and Prevention (CDC), nearly all adults (96%) aged 65 years or older have had a cavity and around 68% have gum disease. Nearly 1 in 5 of adults aged 65 or older have lost all of their teeth.
Beyond that, many seniors are reluctant to go to the dentist due to anxiety, poor general health, cost and travel. Forty nine percent of seniors cite cost as a reason for not visiting the dentist frequently and 35% say they don't visit because they have no original teeth. Together, these factors can reinforce the myth that dental care isn't necessary for seniors.
To help combat this misconception, for Older Americans Month this May, DentaQuest provider Amber Bonnaig, DDS talked with us about the importance of oral health as people age and shared how she tries to help seniors feel more comfortable accessing dental care in her own practice.
"There are multiple oral conditions that are common in older adults, especially those who are taking numerous medications," says Bonnaig. "Dental visits and preventive care is very important. Prevention works at every age."
Older patients are more likely to be using several prescription and/or over-the-counter medications, making them more vulnerable to medication and drug interactions and conditions such as xerostomia, which affects 30% of patients older than 65 years and up. Older adults are also at an increased risk for root caries because of increased gingival recession. Approximately 50% of adults older than 75 years of age have root caries affect at least one tooth.
As with any oral health condition, preventive measures can be taken to combat these issues.
"Some geriatric patients feel that when a restorative procedure is recommended, the restorative procedure is not necessary because they are getting too old to worry about their dental health," Bonnaig says. "Elderly patients tend to be reluctant to agree to treatment due to a limited income, anxiety or that the problem does not cause them pain."
In spite of the challenges providers face when working to treat seniors, finding ways to encourage them to receive oral health care is important. Here are some approaches Bonnaig implements when working with older patients:
Determine the best communication method for elderly patients and their caregivers.
Create a calm environment to ease elderly patients' anxiety.
Take time to educate elderly patients on procedures and send them home with comprehensive instructions.
"I try my best to explain the treatment plan using the patient's own X-rays, and intra-oral photographs. These tools help the patient and their caregivers visualize the oral issue and understand the importance of treatment," says Bonnaig.
Using different strategies and unique treatment plans can help ensure that preventive and restorative dental care are delivered to older Americans.
If you have any questions or concerns about your oral health, please contact your dental provider and set up an appointment. 
The newsletter designed for anyone who wants to improve oral health for themselves, their families, customers or communities.