Everyone deserves to be healthy — a healthy mind, a healthy mouth, a healthy body. But if we really mean everyone, oral health equity must be a priority.
While the terms "equity" and "equality" both denote fairness, equality indicates that everyone is treated the same way. On the other hand, equity refers to an environment in which people are treated differently with the intention of reaching the same goal for all. Everyone starts with a different set of factors in their lives and therefore need different things to succeed, much like this illustration: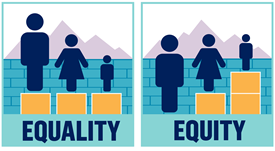 Barriers to Health Equity
Achieving this level of equity is a work in progress. In the current system, our most vulnerable communities are left behind and stuck in the reality of unmet needs. In 2022, more than 76 millions American adults did not have dental insurance. — three times the number of people who are medically uninsured.
In some cases, lack of care is due to location.According to the National Institute for Health Care Management (NIHCM)  more than 45 million Americans live in areas that do not have an adequate number of dentists to serve the local population. The NIHCM notes that socioeconomic barriers such as transportation and job flexibility also contribute to the oral health inequities.
These barriers and gaps disproportionately harm poor Black and Brown Americans. According to a CareQuest Institute for OralHealth survey:
Nearly 1 in 6 Black adults (16%) reported having lost at least six teeth due to tooth decay or gum disease. This degree of tooth loss is much higher than the proportions among adults who are white (12%), Hispanic (9%) or Asian (3%).
Black (17%) and Hispanic (16%) adults were more likely than white adults (14%) to say they had felt "self-conscious or embarrassed because of [their] teeth, mouth or dentures" either very often or fairly often over the past year.
Black (9%), Asian (5%), and Hispanic (4%) adults were more likely than white adults (2%) to believe they "did not get a job" because of their teeth, mouth or dentures.
Black adults were at least 2.5 times more likely than white, Hispanic or Asian adults to have visited a hospital emergency department for dental care.
Barriers to care play a role in maternal health as well. According to a report released by the health advocacy organization Families USA, pregnant women without dental coverage are more likely to experience poor oral health. Poor oral health raises a pregnant woman's risk of high blood pressure, which can lead to major complications and even death. It also increases the risk of poor birth outcomes, such as low birth weight or premature birth. A mother's oral health can also affect children's health. Children are three times more likely to have dental disease if their mother was not able to receive dental care during pregnancy.
The report also notes that the same populations that face the highest rates of maternal mortality and poor birth outcomes also face higher rates of oral disease. For example, Black women, American Indian/Alaska Native women, low-income women and women who rely on Medicaid for their health insurance are disproportionately likely to suffer from dental disease during pregnancy. These same groups of women are the least likely to be able to access dental care.
Health Equity Heroes
DentaQuest has been shining a light on those among us leading the pursuit of health equity. Our Health Equity Hero Awards have honored dozens of individuals and organizations during the last eight years who are improving health care access for people with the greatest needs and fewest resources
Ultimately, we aim to level the playing field so that we all have a chance to live our best lives.
The newsletter designed for anyone who wants to improve oral health for themselves, their families, customers or communities.