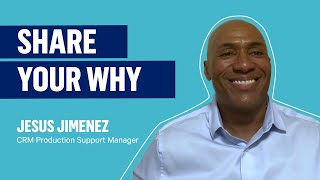 Exceptional service is a DentaQuest differentiator. Whether educating members about their dental plan, optimizing the credentialing tool for providers or helping clients manage their plans, DentaQuest provides unparalleled customer service.
CRM Production Support Manager Jesus Jimenez oversees the team responsible for creating and maintaining member, client and provider web portals. Optimizing and continuously improving these digital gateways is critical to ensuring a stellar customer experience. Jimenez understands the importance of "delivering excellence," one of DentaQuest's five core values, and regularly emphasizes it to his team.
"Deliver excellence means quality to me, making sure that the quality of our work meets or exceeds that which is expected. The more thoughtful we can be to build and deliver technology for today, while allowing for an easy integration and scalability tomorrow, is a key aspect of what I focus on."
Also impacting Jimenez's work is the DentaQuest mission: to improve the oral health of all.
"The mission does have a positive influence on me. It means that we are improving the oral health for all communities and for people of all ethnicities, backgrounds, genders and socioeconomic status. And our Preventistry® focus really resonates with me: providing the necessary care and timely checkups so we can help prevent serious dental issues from occurring.
"Live our mission goes into everything I do and the daily decisions I make for the CRM team. I am constantly thinking about how the things we are implementing affect our users, members and providers. Questions my team always asks to ensure we are living the mission are, 'What will be their experience? and Is it possible to improve their experience?'"
Jimenez recognizes colleagues' level of commitment to the mission as a common thread that winds through the organization. This shared dedication inspires his loyalty to DentaQuest.
"I enjoy the people I work with. The one true constant for me at DentaQuest is that we have amazing people who work here who truly care about the company, the mission, the values and always doing the right thing. That is one of the main reasons why I have been at DentaQuest for so long."
He also attributes his 10 -year tenure to the many opportunities he's had to grow within the organization, as well as the fact that he is part of a diverse and inclusive culture. Jimenez began his DentaQuest career as a service desk analyst and then took on more progressively demanding roles.
"I have been given the opportunities to learn, grow and try new things. Also, I value the fact that we have Employee Resource Groups (ERGs) that leadership supports. I feel fortunate to serve as chair of Adelante—the Hispanic ERG—and find this position to be as equally as rewarding as my CRM manager's role. DentaQuest recognizes how important diversity is and how, together. we can have a great impact on our mission, the company and our stakeholders."
The newsletter designed for anyone who wants to improve oral health for themselves, their families, customers or communities.