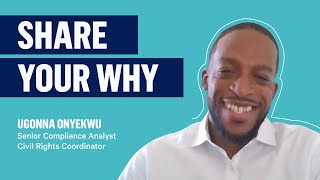 Though Senior Compliance Analyst and Civil Rights Coordinator Ugonna Onyekwu's time is focused on ensuring that DentaQuest takes the steps necessary to comply with applicable rules and regulatory, statutory and contractual obligations, he maintains a personal connection to the DentaQuest mission.
"As a first-generation child of immigrant parents, I have had the opportunity to see what this country has afforded all its men and women, regardless of race, color, national origin, age, disability or sex. However, a gap between what is available to those with different means and different backgrounds continues to widen.
"With my passion for advocacy for the underrepresented and my recognition of civil rights disparities, I am able to leverage tools from my day-to-day work schedule at this organization to positively impact my community and the members we serve to help ensure equitable access to health care."
Living Our Values
As a Black man, Onyekwu is keenly aware of society's biases, prejudices and inequities that adversely affect minority populations. Given this personal perspective, he is proud that his values align with many of DentaQuest's guiding principles: deliver excellence, seize opportunities and promote a "One DentaQuest" culture.
"I am fully aware of the different forms of discrimination faced by disadvantaged groups who are consistently denied access to basic benefits. With my current role in Compliance, I have developed the analytical, interpersonal and organizational skills to help ensure DentaQuest's compliance with relevant non-discrimination laws and regulations. In Compliance, we constantly hold ourselves accountable to exceed our internal and external clients' needs."
In addition to setting a high bar for excellence, the Compliance department nurtures a culture—like that of all DentaQuest functions—which is supportive and encourages professional development. Onyekwu—who has moved into roles of increasing responsibility during his 8 ½ years with DentaQuest—appreciates the opportunities afforded to him to advance in his career.
"By working with stakeholders across the organization to address and mitigate operational risk, I help the individuals we serve in a very meaningful way. DentaQuest affords me the space to foster and drive ongoing progress, achieve stretch goals and learn new skills."
Moreover, the company's commitment to diversity, equity, and inclusion (DEI) serves as the basis of a collaborative environment where every individual and perspective is welcomed and respected. This sense of belonging resonates with Onyekwu, a steering committee member of the DentaQuest African American Network (DAAN) employee resource group (ERG) which works to connect and educate colleagues, support the company's outreach efforts and facilitate communication between members and leadership.
"I am a strong advocate for diverse representation in leadership and for soliciting ideas from fresh faces. This organization has taken steps to include diverse leadership at the Executive Leadership Team level. By cultivating inclusion at the very top level of this company, I am inspired to cascade ideas of inclusion to my team members and ultimately help improve operational functions across the organization."
A mission that hits home. Shared values that are inspirational. An inclusive culture that is embedded in the fabric of our organization. These are Ugonna Onyekwu's "why's."
The newsletter designed for anyone who wants to improve oral health for themselves, their families, customers or communities.