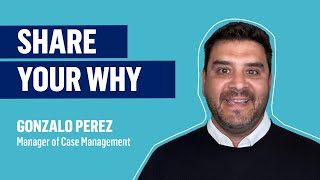 For Manager of Dental Case Management Gonzalo Perez "living the DentaQuest mission" means no one is left behind.
"My team and I have to overcome unthinkable obstacles to get our members what they need. This type of passion and commitment requires a special mix of empathy, perseverance and outside of the box thinking."
This is no exaggeration. Perez and his case managers take putting our mission in action to a whole new level. From contacting the Salvation Army to find shelter for a homeless member with end-stage renal disease to using a bidirectional referral system to facilitate communication with members' medical care teams, case managers spare no effort to help those in need.
In so doing, team members demonstrate not only the invaluable benefits of medical-dental integration—a concept that is not yet adopted widely within health care—but also how they are advancing our future, one of our five core values.
"When we reach out to members, the focus may be oral health, but during the case management process, we inevitably come across major gaps in physical or mental health and become a referral source. We constantly communicate with teams on the medical side to assist members.
"Dental case management is one of the new frontiers in managed care and is growing by leaps and bounds. It's becoming a differentiator and regular element in our bids to win new business," says Perez. "My team sits at the crossroads of many trends in health care, like medical-dental integration, addressing social determinants of health and practicing person-centered models of care. We apply a prevention-focused approach to our work, striving to reduce or eliminate oral health issues before they occur."
Perez largely credits DentaQuest's strong culture of career advancement, employee investment and forward thinking for the opportunity to be part of dental case management, an emerging trend that delivers meaningful outcomes.
"We are more than a dental insurance company. We're a driver for change and better health care, and I find myself in the rather fortunate position to lead our efforts in this area as we deliver excellent case management to our current members and prepare for future growth as a company."
The newsletter designed for anyone who wants to improve oral health for themselves, their families, customers or communities.